If there was a more uplifting football image last year than Christine Sinclair with her Olympic gold medal, you'll go a long way to find it.
We all know, after all, that the beautiful game – like life itself – isn't always fair, and that just rewards often remain undelivered. Hearts were always sure to be warmed, therefore, by the sight of this universally admired player with a prize she had so long pursued, and so richly deserved.
Sinclair didn't need a gold medal to establish her among the game's all-time greats, of course. A glittering 22-year career and 190 international goals – more than any other man or woman in history – had already secured that status. But anyone who has followed the career of this world record-holder will know how low individual achievements, awards and accolades languish on her list of priorities.
That team-focused attitude, and the "incredible humility" her coach, Bev Priestman, refers to, is what has helped Sinclair command such widespread admiration and affection within the game. It's also what ensured that her success in Japan was savoured and celebrated far beyond Canada's borders.
All the same, there was a bittersweet tinge to the sight of Sinclair clutching that medal. It came with the realisation that, in seeing this 38-year-old achieve the dream she had been chasing for over two decades, we might also be watching her bid farewell.
But those of us who deduced that the temptation to go out on such a high would prove irresistible overlooked a few key factors. Others, who know the Portland Thorns star best, and know what drives her, will be less surprised by her desire to compete in a sixth FIFA Women's World Cup next July – a month after blowing out the candles on her 40th birthday cake.
This living legend explained that decision in a frank and wide-ranging interview with FIFA+.
---
The last time we spoke was in Yokohama just after you'd won Olympic gold. How has life been treating you since? Good! The period just after Tokyo was a bit of a whirlwind, and since then it's just been a case of settling back into life at Portland and focusing on having a good year here. Heading into the season here, we'd made a lot of changes (Karina LeBlanc and Rhian Wilkinson, two former team-mates of Sinclair's, became the club's general manager and head coach) so it was kind of going into the unknown. But it's come together well.
How has that been? Although it's clearly working very well (the Thorns are one win from securing another NWSL Shield), it must have been strange at first for you to have two friends and long-standing team-mates working above you in such senior management roles. Yeah, I think we've all had to work at getting used to that situation of Rhian being my boss and Karina being Rhian's boss. The three of us are like best friends, so it has been kind of weird and we've had to put those friendships to one side – at least until the off-season. But I think we're doing ok. They've stepped in and just been incredible.
You extended your contract with the Thorns earlier this year. Was that an easy decision? Well, I was never going to play anywhere else. It was more a matter of, 'Do I want to keep playing after the Olympics?' But I feel great and I wanted the opportunity to play for Rhian and Karina and see what a bunch of Canadians could be capable of in this kind of environment. And having a World Cup round the corner obviously helped make my mind up.
A lot of people were pleasantly surprised by that decision, having expected you to grasp the chance to go out on a high after Tokyo. What convinced you to keep going? First and foremost, I'm still healthy and I still love playing. I wake up every day with the desire to go to training and help my team win. And with COVID having pushed the Olympics back a year, and a World Cup coming up sooner than usual afterwards, I just found it too hard to walk away. I had some honest conversations with Bev and we're taking it month by month, camp by camp. But the World Cup is definitely the goal. That's kind of the missing piece.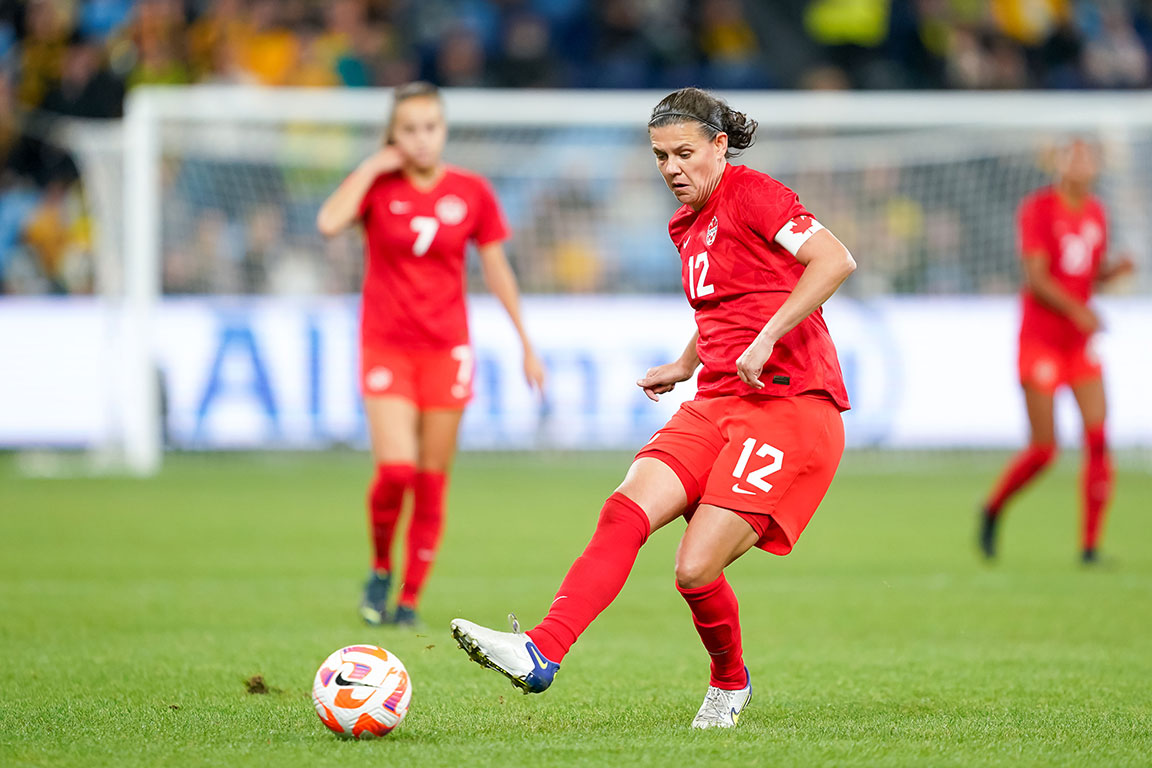 Bev spoke to us about that after Tokyo and said she was really digging into why Canada have done so well in Olympics and not been as successful at World Cups. Can you put your finger on why that has been? I think part of it is just that the women's game has grown so much. You get to a quarter-final and you're playing France or Germany or the US, and those are matches any team can lose. I thought the same with the Euros this year; when it gets to the knockout stages, there are so many good teams that it's almost a coin-toss who goes through. You need some luck too and, in the Olympics, we've had that, whereas in the World Cup we've lost games we should have won. But I know Bev, and I know she's told us, 'When you're winning gold in the Olympics, you're only at the quarter-final stage of a World Cup'. The question for us is, 'How do we push on and do it again?' That's what she and her staff are looking at, and I know they'll be doing everything to make sure we peak at just the right time. And I'm pretty sure we'll do things differently this time.
I imagine you'll have total faith in Bev finding those answers given how fully you've bought in to the way she does things, and the way she and John Herdman worked together previously. Absolutely. Going back to John, I think he's incredible. I really do think the world of him. And Bev is like a little John. She's her own person or course and does some things differently, but there's that same level of detail, of analysing absolutely everything to get that final per cent.
Those conversations you had with Bev about playing on: was it a case of her convincing you, or just you telling her, 'Count me in'? No, I didn't need to be convinced. It was more a case of me asking, 'Bev, do you want me around?' We're very honest with each other and I'll never put her in a difficult position, and she's said the same to me. But with how I'm playing, hopefully everything will work out fine.
I know Bev has said how much easier you make things for her by the way you behave – the way you reacted, for example, to being substituted in the Olympic final. Is that a case of putting humility, and being a good team-mate, above the status that everyone knows you have in Canada and within the sport? I won't lie: when my number comes up and I'm taken off, I'm always disappointed. But I'll never show it. I respect my team-mates, Bev and her staff too much to do that. I'm very fortunate to play the number of minutes I do and to have the number of caps that I have, and I see players in these squads – talented players – who don't see a minute. So I have no right to sulk. It's all about making the team succeed, and the one thing we have now that we didn't have in the past is depth. You saw that at the Olympics, when Bev was able to make changes and use the roster in a really effective way. I just want to contribute to that.
Are you proud at how you've been able to reinvent yourself, from being an out-and-out centre-forward to flourishing in a more creative, withdrawn role? It's probably one of the things I'm most proud of. The game has evolved so much since I started, and it's been important for me to evolve with it. I give a lot of credit to John [Herdman] for that change. He was the first coach, even before it was cool to play with a false 9, to say 'That's what I see you as'. It's definitely helped me, playing for Portland as an attacking midfielder-type and learning to offer more than just runs in behind and getting on the end of things in the box. I've definitely changed a lot since I first broke on to the scene.
Is there an irony there, too, that the big goal milestones – including the world record – have come for you at a stage in your career when your role is less about scoring goals than it's ever been? It's weird because it's honestly never been all about goals for me, and I think the fact that I wasn't so fixated on scoring all the time has definitely helped me. There were also times when I'd score 20 goals a year for Canada and we'd win two games and, believe me, I much prefer how things are now. I don't even know how many players scored for us in World Cup qualifying but we're definitely becoming a much more balanced attack. I love seeing that.
You've mentioned the carrot of the World Cup but, day to day, what motivates you to keep going? Do you never arrive for the start of a tough pre-season and think, 'Why am I still putting myself through this'? No, I genuinely still enjoy working hard and putting in a hard session. Pre-season never scares me. And I'm the type of person who's never satisfied. I still think I have more to learn and more to give, and I feel like I learn something new every day. I love competing with my team-mates too and I've had so many people tell me, 'Play as long as you can'. There will come a point when I can't anymore and it's not a normal job when you think, 'Ok, I'll step away and five years from now I'll come back'. When it's gone, it's gone. So as long as I still love it and I'm healthy, I'll keep going.
I imagine Rhian and Karina, even if they're enjoying their new roles, are telling you not to be in any rush to join them in putting on a suit? Very much so. I hope there might be a desk waiting for me somewhere in the Thorns organisation when that time comes, but they've been telling me, 'You can play until you're 45!' And I'm like, 'Heck no!' (laughs) But it's cool to have that kind of support and encouragement both here and with Canada.
How did you find the aftermath of the Olympics? Stephanie Labbe told us there was a real feeling of emptiness for her, initially at least. Did you experience any of that, or was it all positive? For me, it was everything I'd dreamt it would be. My family threw a giant party and, because of COVID, it was the first time all of us – that extended family – had been able to spend time together in about two years. It just felt like there was so much to celebrate. Then being able to play some home games and celebrate with the fans – I found it all pretty special. The thing is, I never thought that I'd ever win a gold medal representing Canada. And when I'm done playing, it will be something I can look back on and be like [mimics looking at her gold medal], 'Wait… I have one of these!' I still find it pretty remarkable.
If there was one negative aspect to the Tokyo Olympics, it was the lack of fans. Is being part of a World Cup with full stadiums part of the attraction of playing on? Weirdly, I think not having fans in Japan actually helped us. I've said all along that I think our national team was built for a COVID Olympics, just because of the culture we have in the team and the way we truly get along. We're a group that actively chooses to spend time together so, yeah, being locked in a hotel together for a month was right up our street. We didn't struggle with it the way other teams did. Also, at the end of the tournament, everyone normally scatters because they have friends and family in town. But we were able to celebrate as a team in the Olympic village without anyone else, and those are some of the best memories I have. It was just us – and we made the most of it.
Looking ahead to next year, is it exciting to be going to a World Cup with so many potential winners? Gone are the days when it was Germany, the US and perhaps one or two others in contention. That's why you play and it's what makes it exciting. It's been that way at the men's World Cup for a long time and I've waited my whole career to see it on the women's side too. Deep down, I'm just a fan of the women's game and I want to see it succeed and grow, so I'm really happy to see and be a part of this. Once you get to the knockout stages of these tournaments, I really feel that anything can happen. That's exciting to play in and it's exciting to watch. So yeah, I honestly think it's going to be a great World Cup.
You mention the men's World Cup and we can't let you go without asking you about the Canada team going there. Knowing the faith you have in John, I'm guessing you'll have pretty high hopes? I think they're going to surprise a few people. I'm not saying they're going to win all their games and bring home the World Cup, but I definitely think they'll surprise people with their performances. They have an exciting team with some world-class players and, with John in charge, anything's possible. It's really exciting. This is the first time I've been able to watch a World Cup and cheer for my home country, and I honestly can't wait.