There's a lot of unseen work that happens in refereeing.
It's a job that requires dedication and in-depth education about technical skills and the Laws of the Game. Referees train year-round to ensure their physical fitness is always at its peak and their soccer knowledge is resolute.
Canada Soccer's National List of Referees gathered in Ottawa in late January to have their fitness assessed and to receive education and directives in preparation for the upcoming season.
Isaac Raymond, Canada Soccer's Referee Department Manager, said the camp is an important time to bring everyone together.
"The referees have a long off-season," said Raymond. "We use the camp as an opportunity to fitness test everybody before the start of the season … typically we get a 100 per cent pass rate."
Fitness is one thing a referee cannot afford to lack. An average referee will run as much as any player on the field, covering a similar distance as most box-to-box midfielders.
"Referees need elite fitness at the same level or more than most of the players," said Raymond. "The assistant referees alone run an average of seven kilometres a game, most of it at high speed. The referees run an average of 11 to 13 kilometres a game with a variety of modalities, so it's obviously quite exhausting."
The idea that referees "show up and go home," is a common misconception about refereeing, said Raymond. It's more than a 90-minute job, he added, and the realities of the profession are much harsher.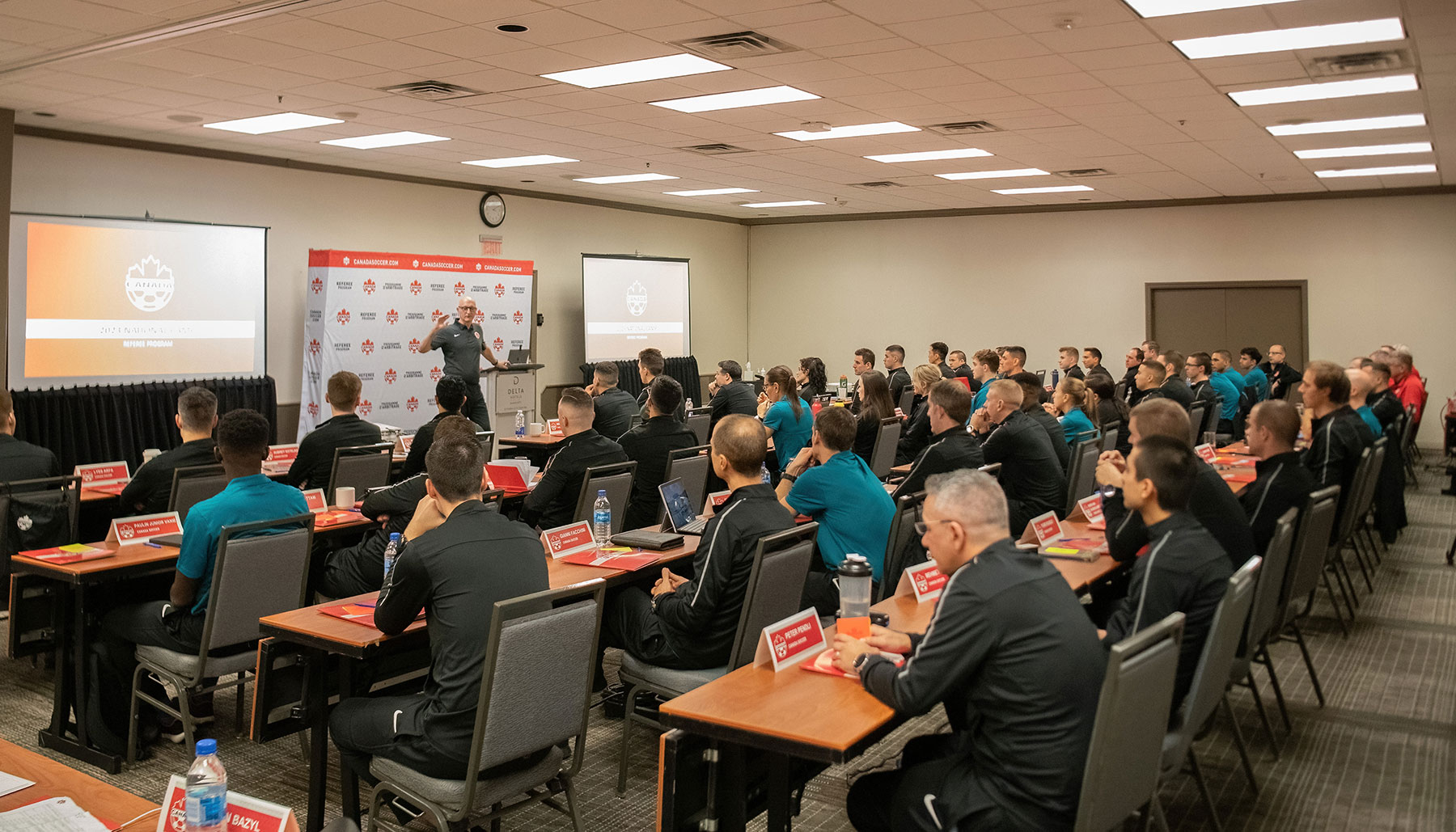 At Canada Soccer, elite referees are given specialised fitness programs to help with their post-season recovery and pre-season fitness. In some cases, these programs are used to help referees returning from injuries or maternity leave.
Marie-Soleil Beaudoin, a Canadian referee on the FIFA List, officiated the FIFA U-17 Women's World Cup Final at Uruguay 2018 just seven months after giving birth. Beaudoin said Canada Soccer's support was important for her post-pregnancy journey back to full fitness.
Beaudoin trained right up until the day she gave birth and restarted training six weeks after. Her dedication is a testament to the seriousness to which Canadian referees approach their craft.
The fitness component is only one aspect of a referee's job. They have to keep up to date on the Laws of the Game and other regulations. To account for this, the recent national camp included educational classes.
"We talked about trends in refereeing, our expectations of what we want to see from referees," said Raymond. "Fouls, what a foul looks like, what type of tolerance we need to have for fouls in the professional game, including offside and handball; those types of things are always hot-button topics."
Referees reviewed statistical data and game analytics from the 2022 Canadian Championship and 2022 Canadian Premier League season. They discussed the impact referees can have on the game and reviewed the most difficult decisions from the past season to see what was done well and what could be improved.
Additionally, the camp combined the physical components and educational components of refereeing into a practical component, where referees partook in game situations during on-field sessions.
Professional soccer is an intensely competitive sport with a lot of interest in various communities. That makes refereeing an extremely important aspect of the game.
"There's a lot of pressure associated with refereeing," said Beaudoin. "As a referee, we don't want to make a mistake that decides who wins and who loses a game, who goes to the next round and who doesn't. I enjoy that pressure, it's part of what makes refereeing interesting and challenging."
The compact weekend was filled with several practices to improve the referees' skills, yet the officials still have much to do before the start of the season.
"There's a lot of work that happens behind the scenes that is unseen," said Raymond. "The referees study video all the time and along with physical fitness, mental preparation is hugely important for refereeing at the professional level. There are a lot of things that go on … and it's especially important to understand the sacrifices made at home and work to accommodate being a referee."
Story by Jayden Dill – Photos by Martin Bazyl