Québec took home gold at the 2022 Canada Games Men's Soccer Tournament in Niagara after a 3:0 win over Ontario. It marked the fourth time that Québec won the tournament (1997, 2009, 2013, 2022). Ishmaël Jones, Mandell François and Alexandre Marcoux were the goalscorers while goalkeeper Judwellin Michel and his backline posted the clean sheet. Michel was also named Top Player of the tournament.
In the Friday Final, Québec coach Alessandro Salvoni started Judwellin Michel (goal), Tyrese Jordan, Nikola Markovic, Mandell François, Benjamin Haynes, Simon Annabi, Rayane Tchemmoun, Adam N'Goran, Ross Appolon, Alexandre Marcoux and Ishmaël Jones. Kundalini Dominique, Nicolas Pietrantonio, Edward Schryburt, Maleek Manswell and Samir Djeha all featured as substitutes while Tudor Iordan and Nicolas Henry dressed but did not feature in the Final.
This year's Canada Games Men's Soccer Tournament ran from 7 to 12 August while the Women's Soccer Tournament will run from 15 to 20 August. Matches are all played at Youngs Sportsplex in Welland, Ontario.
From the final day of the Men's Soccer Tournament on Friday 12 August, Québec won gold, Ontario won silver, and Alberta won bronze. Both Saskatchewan (sixth) and Yukon (seventh) earned their best-ever results.
FINAL STANDINGS – MEN'S SOCCER:
1. Québec
2. Ontario
3 Alberta
4. New Brunswick
5. British Columbia
6. Saskatchewan
7. Yukon
8. Manitoba
9. Nova Scotia
10. Newfoundland Labrador
11. Prince Edward Island
12. Northwest Territories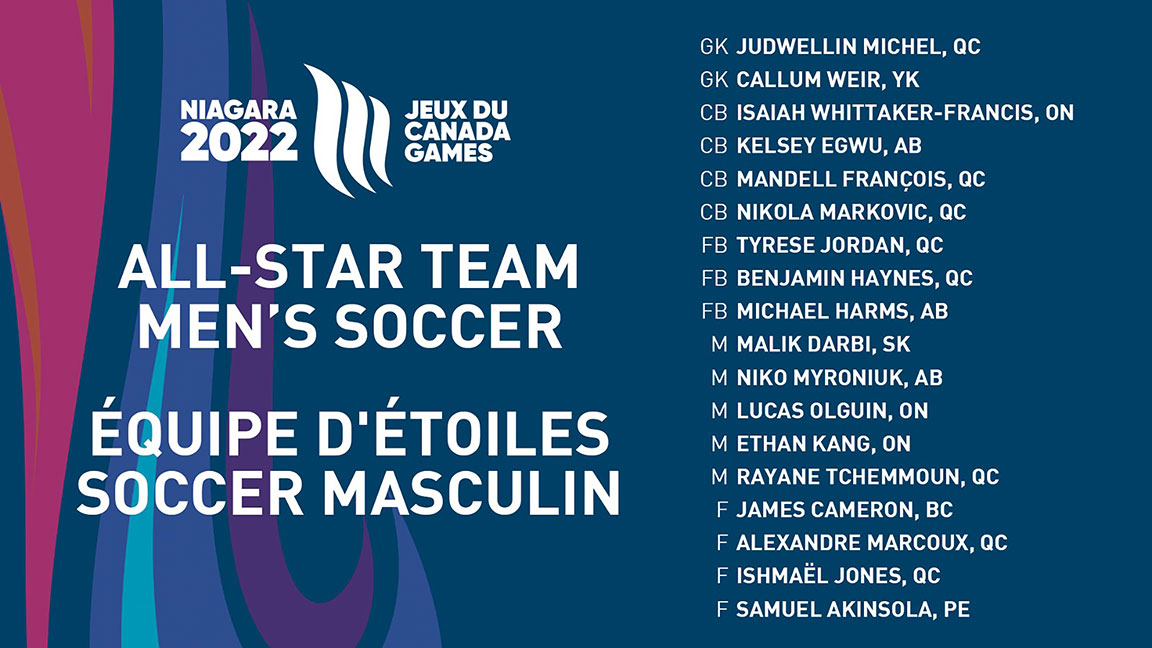 CANADA GAMES ALL-STAR TEAM – MEN'S SOCCER:
GK- Judwellin Michel, Québec
GK- Callum Weir, Yukon
CB- Isaiah Whittaker-Francis, Ontario
CB- Kelsey Egwu, Alberta
CB- Mandell François, Québec
CB- Nikola Markovic, Québec
FB- Tyrese Jordan, Québec
FB- Benjamin Haynes, Québec
FB- Michael Harms, Alberta
M- Malik Darbi, Saskatchewan
M- Niko Myroniuk, Alberta
M- Lucas Olguin, Ontario
M- Ethan Kang, Ontario
M- Rayane Tchemmoun, Québec
F- James Cameron, British Columbia
F- Alexandre Marcoux, Québec
F- Ishmaël Jones, Québec
F- Samuel Akinsola, Prince Edward Island