Olympic champion, world record holder and forever Canadian hero Christine Sinclair will play her last international match in 2023. It will mark the end to a remarkable 24-year international career in which Canada's "Captain Everything" has both carried and transformed a nation like few other athletes in the history of Canadian sport.
With just two international windows left on the FIFA calendar this year, fans will have just a few chances left to watch the iconic star in Canada colours before she says her goodbye. Canada Soccer's Women's National Team play Brazil next in a two-match home series with both a date in Montréal at Stade Saputo on Saturday 28 October and then a date in Halifax at sold-out Wanderers Ground on Tuesday 31 October.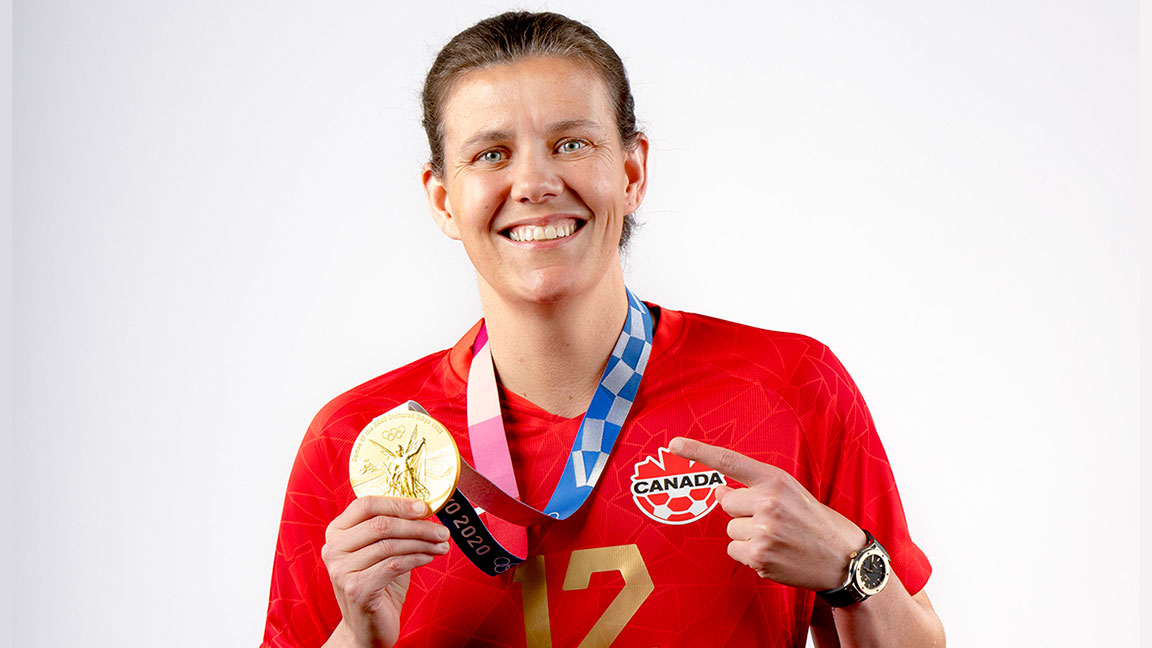 "Congratulations to Christine on a stellar career that has been extraordinary and inspiring both on and off the field. While her days as an active Women's National Team player are coming to an end, her legacy will endure in the hearts and ambitions of so many young athletes across Canada and around the world."
​​-Charmaine Crooks, President, Canada Soccer
"Very few players can lace up their boots and transcend a sport both in this country and globally. Christine has done just that — both as a player and a person. She is known and admired by all Canadians and has been pivotal in every single country stopping moment. I feel very fortunate and privileged to have worked with Christine, the greatest of all time, not only in what she has done but in how she has done it. The moment when Christine's last kick or final whistle goes for this country, she can leave the field knowing she has changed this game forever, ​ inspired an entire generation, and paved a better future for all through her work off the pitch. ​ That is one tremendous legacy."
-Bev Priestman, Women's National Team Head Coach, Canada Soccer
"As a former player, I know that this day and these moments are difficult. But this is not the end for Christine, who has influenced sport in our country at a level that we will continue to see and feel for years to come. I want to thank Christine for her tremendous contributions and for all that she has done and will continue to do to help grow soccer in Canada."
​-Jason deVos, interim General Secretary, Canada Soccer
Since March 2000, Sinclair has made 327 career international "A" appearances, second most in the history of world football. She has captained Canada to a Concacaf Championship in 2010, a Pan American Games Gold Medal in 2011, back-to-back Olympic Bronze Medals in 2012 and 2016, and an Olympic Gold Medal in 2021. She has also helped Canada finish fourth at the 2003 FIFA Women's World Cup and sixth at the record-setting FIFA Women's World Cup in Canada back in 2015.
Sinclair holds the world's all-time international goalscoring record with 190 goals scored in all "A" matches and she has scored those goals in 22 different nations and against 43 opponents. In major competitions, she has scored 10 goals at the FIFA World Cup, 12 goals at the Olympic Games, and another 46 goals in all Concacaf competitions. In recognition of her world record, she was a recipient of The Best FIFA Special Award as well as the Canada Soccer President's Award.
An Officer in the Order of Canada, Sinclair is a 14-time Canada Soccer Player of the Year and a two-time Canadian Athlete of the Year. She was the Canada Soccer Player of the Decade from 2010 to 2019 and she was the captain of Canadian Team of the Year three times from 2012 to 2021. She is also an eight-time top-five finalist for The Canadian Press Athlete of the Year and a 10-time finalist for the FIFA World Player of the Year.
Sinclair's next home match will be her milestone 50th international "A" appearance played in Canada since June 2001 when she scored the 2:2 match equaliser against the visiting Americans at Toronto's old Varsity Stadium. She has featured in seven different provinces with Nova Scotia expected to become the eight Canadian province in which she has played an international "A" match. Along with the home FIFA World Cup in 2015, she has helped Canada qualify for two Olympic Games with the home crowd behind her: in January 2012 at Vancouver for the London 2012 Olympic Games and most recently in September 2023 at Toronto for the Paris 2024 Olympic Games.