Led by first-year Head Coach Rhian Wilkinson from Baie d'Urfé, Québec, Portland Thorns FC won their first NWSL Championship in five years after a 2:0 victory over the Kansas City Current in the 2022 playoff final. Featuring captain Christine Sinclair as a starter and winger Janine Beckie as a substitute, the 2022 Thorns are just the second NWSL Championship winners to feature two Canadians in the playoff finale.
Portland's Sophia Smith opened the scoring in the fourth minute and Yazmeen Ryan's cross was fumbled into an own goal for the Portland 2-0 lead in the 56th minute. Goalkeeper Bella Bixby and her backline posted the clean sheet.
Alongside Wilkinson, who became the first Canadian Head Coach to win the NWSL Championship, Portland also featured Karina LeBlanc as their General Manager. LeBlanc previously won the NWSL Championship as a Thorns player back in 2013, which was the last time the NWSL Championship winners featured two Canadians.
Sinclair, who is now the league's all-time leader in playoff minutes, became just the second NWSL captain to lift the NWSL Championship trophy three times (after Abby Erceg). She previously led Thorns to the NWSL Championship in 2013 (alongside LeBlanc) and 2017. Since joining Portland, she has won three playoff titles, two NWSL Shield regular-season titles (2016, 2021), an NWSL Fall Series (2020), an NWSL Challenge Cup (2021), and an International Women's Cup (2021). Before the NWSL, she won the WPS Championship twice (FC Gold Pride in 2010 and Western New York Flash in 2011) and USL W-League Championship once (Vancouver Whitecaps FC in 2006).
Beckie, in her first season with Portland, won the NWSL Championship for the first time. She previously won England's FA Cup twice (2019 and 2020) and FA League Cup twice (2019, 2022) with Manchester City FC.
Alongside the Canadians, Portland Thorns FC also featured Assistant Coach Michael Norris, who before this season was a goalkeeper coach with Canada Soccer. Norris, who grew up in Newcastle, England but has spent the last decade in Canada, helped Canada Soccer's Women's National Team win an Olympic Gold Medal last year in Tokyo. Both Sinclair and Beckie were also part of that Canadian team that won the Olympic Gold Medal.
Across from Sinclair, the runners up Kansas City Current also featured a Canadian Olympic gold medal winner, their captain Desiree Scott. With Sinclair and Scott wearing the armband, it marked the first time that an NWSL Championship was captained by two Canadians.
This past season marked the NWSL's 10th season since it was inaugurated in 2013 by US Soccer, Canada Soccer and the Mexican Football Federation. Including the NWSL Challenge Cup, NWSL regular season and NWSL playoffs, Canadians have featured in a record 23,072 minutes played in 2022.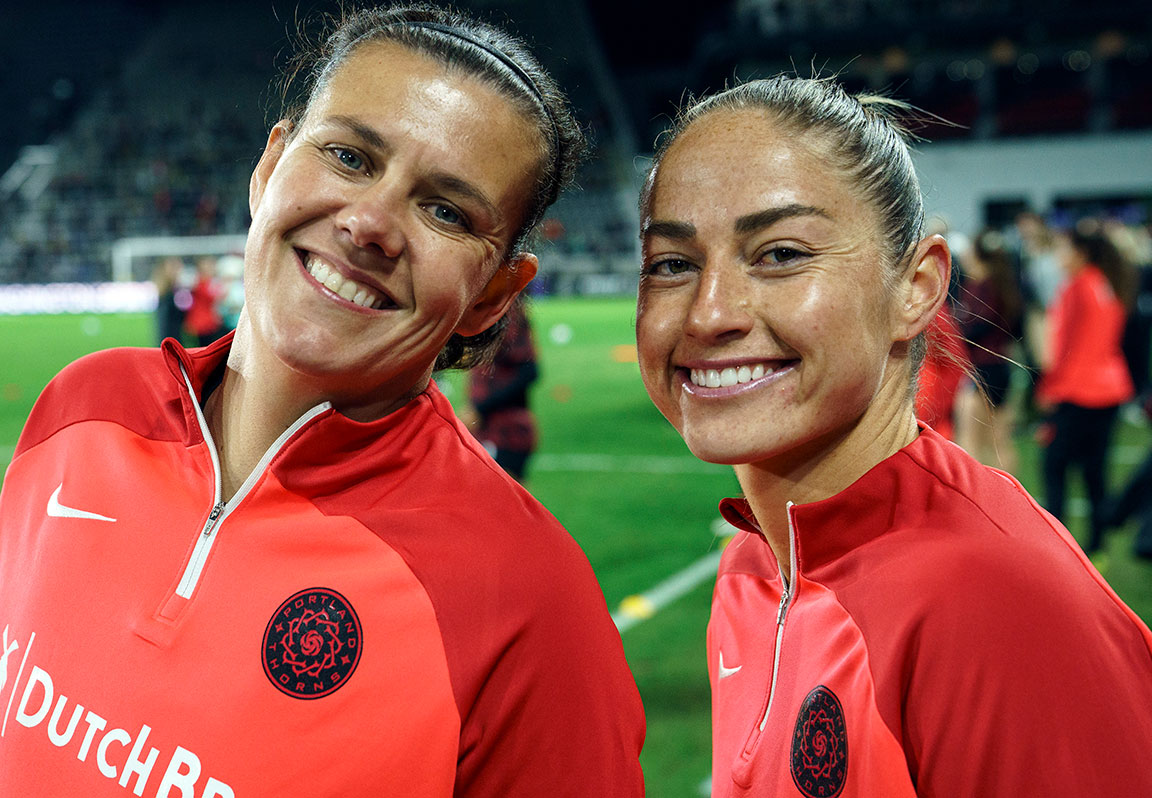 NWSL CHAMPIONSHIP / CHAMPIONNAT DE LA NWSL :
2013 Karina LeBlanc & Christine Sinclair, Portland Thorns FC
2016 Sabrina D'Angelo, Western New York Flash
2017 Christine Sinclair, Portland Thorns FC
2018 Sabrina D'Angelo, NC Courage
2019 Stephanie Labbé, NC Courage
2022 Janine Beckie & Christine Sinclair, Portland Thorns FC