Story by FIFA+
Kick-off at the FIFA World Cup Qatar 2022™ is approaching fast, and in the build-up to the greatest show on earth, representatives from the participating teams will take time out from their preparations to connect, engage, and inspire groups of people central to the tournament's success.
Commencing on Monday with Canada, just a few hours prior to the launch FIFA's Football Unites the World campaign, teams will participate in a nominated Community Engagement Event this week, focused on tournament legacy and organised by Supreme Committee for Delivery & Legacy, alongside FIFA and Q22. Teams will spend an hour connecting with volunteers, workers, Qatari youths, or locally-based people from a diverse range of cultural backgrounds.
The Community Engagement Events, presented to the 32 teams at the FIFA World Cup Qatar 2022™ Team Workshop held in Doha in July, are an important element of the tournament's Sustainability Strategy, and assist stars of the global game to leave an off-field legacy in Qatar by delivering lifelong memories and inspiration to the people they meet.
Canada, participating in their first FIFA World Cup™ since Mexico 1986, were the first nation to partake in one of the Community Engagement Events. Canada selected the 'Coaching Volunteers' programme and brought joy and excitement to representatives from the tournament's 20,000-strong Volunteer base.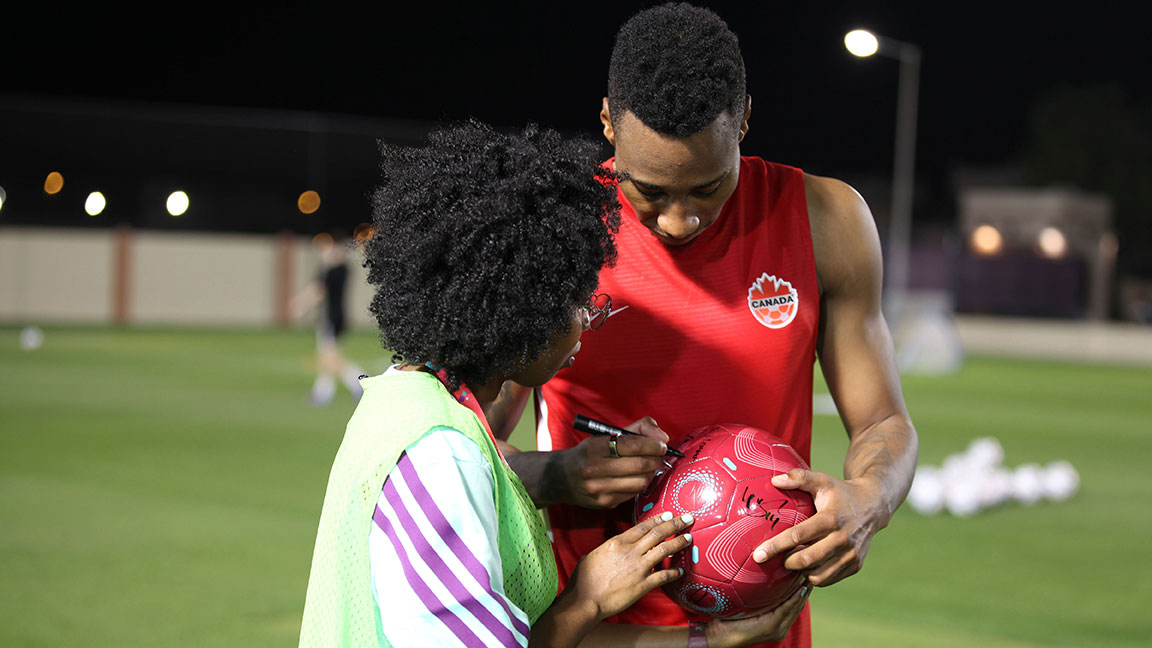 Midfielder Mark-Anthony Kaye from Toronto FC took part in the session, which proved to be a hit with the Volunteers, players, and Canada's staff.
"I think it's awesome that we are able to have an interaction with the Volunteers, especially before the World Cup starts and everything gets chaotic and days get busy," said Kaye. "They (Volunteers) play a huge part in what we are able to do at this massive event on the world stage, and I am just happy that they are able to see us players and realise that we are just like them, that we are human, and that we have emotion and passion for the game. "They are helping, and we are playing, but at the end of the day it is a unified effort to make Qatar 2022 a real, real special event."
FIFA World Cup Qatar 2022™ Community Engagement Events will continue through to Sunday – the day of the FIFA World Cup Qatar 2022 opener between Qatar and Ecuador at the iconic Al Bayt Stadium. Among the many highlights of the Community Engagement Events this week, USA, Argentina, England, and Netherlands will participate in the Workers' Welfare 'Team 360' programme, recognising the achievements and dedication of workers by engaging with participants from the Workers' Cup – an initiative led the Supreme Committee for Delivery & Legacy. Meanwhile, Croatia and Germany will both partake in 'Freestyle Football Challenge', an exercise that provides players the chance to exchange skills and dialogue with female footballers, promoting the active involvement of women in sport.