Canada Soccer have announced their 23-player roster for the 2022 Concacaf W Championship set to be played in Mexico this July. Currently in Toronto preparing for a home send-off match this Sunday 26 June at BMO Field, Canada Soccer's Women's National Team will have a chance to qualify for both the FIFA Women's World Cup Australia & New Zealand 2023 as well as the Paris 2024 Olympic Games through this summer's Concacaf W Championship.

"Selecting the 23 players was incredibly difficult and I think the quality of the players who did miss out speaks to the overall quality of the group," said Bev Priestman, Canada Soccer's Women's National Team Head Coach. "Four of the five additions to the squad from last summer have all had experience at Concacaf or FIFA tournaments which is great. Now it's about shifting gears from selection to connecting as a team and continuing to work on the little things that best prepare us to kick off in Monterrey."

The 2022 Concacaf W Championship will feature eight nations competing in Monterrey, NL, Mexico from 4-18 July. Canada has been drawn in Group B along with Costa Rica, Panama and Trinidad and Tobago while Group A features USA, Haiti, Jamaica and host Mexico. The group stage will play played from 4-11 July with the semi-finals scheduled for 14 July and the Concacaf Final for Monday 18 July. The Concacaf W Championship doubles as both the qualification route for the FIFA Women's World Cup Australia & New Zealand 2023 as well as the Paris 2024 Olympic Games.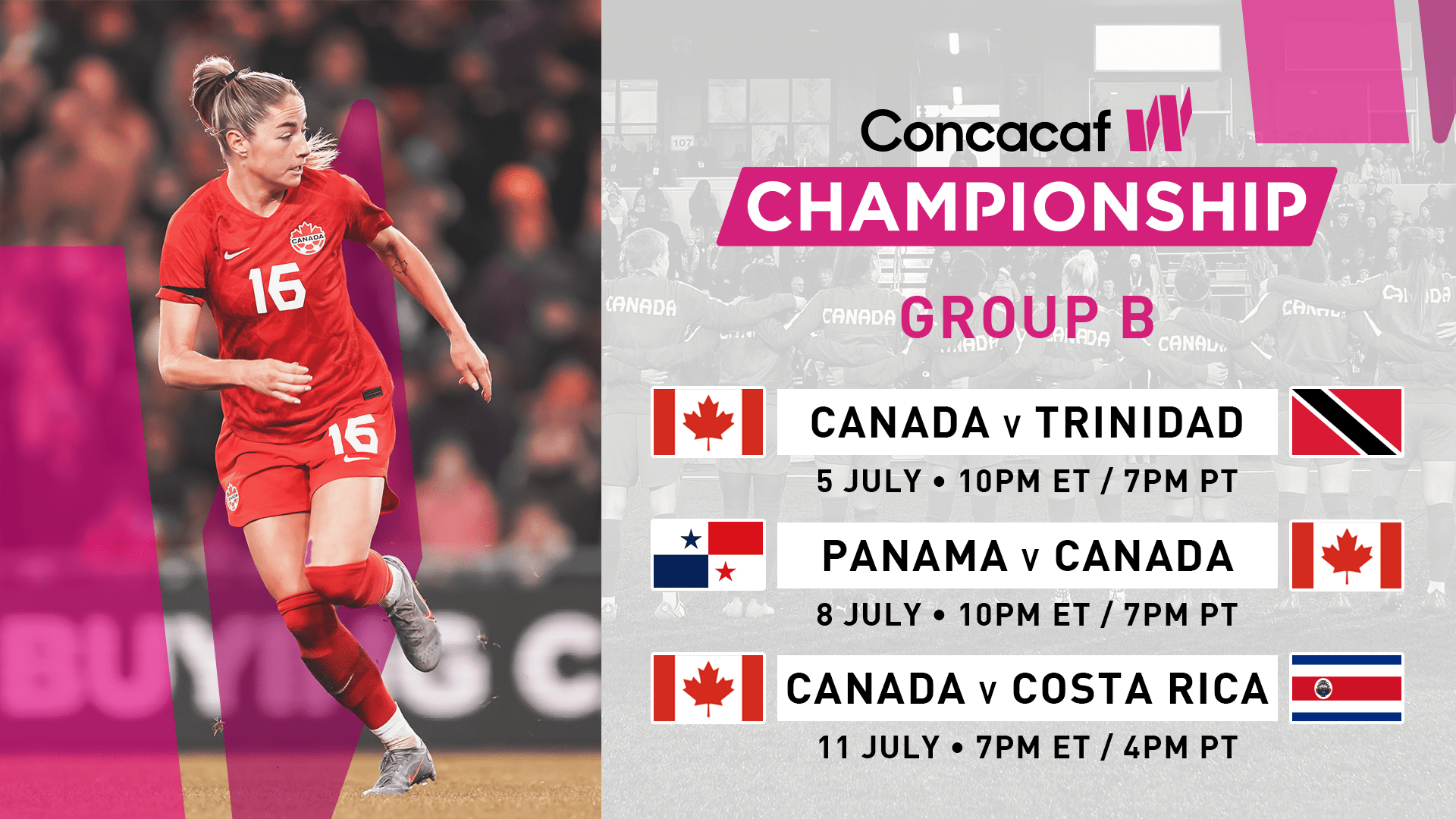 Tickets are still available via Ticketmaster.ca for Sunday's competitive international match against Korea Republic at BMO Field. Both the Sunday match as well as the Concacaf W Championship will be broadcast live on OneSoccer, available as a linear channel on Telus's Optik TV(Channel 980) as well as online at OneSoccer.ca, through the OneSoccer app and on the fuboTV Canada platform. The Sunday match will also be broadcast internationally on Fox Sports Plus (live) and Fox Sports 2 (next day delayed in prime time – 60m+ TVHH), Flow Sports in the Caribbean, HiSportsTV in Mexico, BT Sport in the United Kingdom and the Republic of Ireland, and SkySports in Korea Republic. Fans will find extended coverage for the matches across Canada Soccer's digital channels on Facebook, Instagram, Twitter, and YouTube featuring the hashtag #CANWNT.

Canada are coming off a very successful 2018 Concacaf W Championship where they went undefeated posting a +23 goal difference in the opening four games before losing to USWNT in the final. Adriana Leon finished second in the golden booth race with six goals while Jessie Fleming and Quinn were named to the Best XI of the tournament.

CanadaRED MEMBERSHIP
Becoming a CanadaRED member is the best way for Canadian supporters to ensure an inside track on fan promotions, advance access to National Team home matches, and the latest information on Canada Soccer activity. Visit canadasoccer.com for more information on the CanadaRED fan membership program and register to become official member of Canada's growing soccer movement.

CANADA SOCCER'S WOMEN'S NATIONAL TEAM
Canada are Olympic champions (Tokyo 2020), two-time bronze medal winners (2012 and 2016), and two-time Concacaf champions (1998 and 2010). In all, Canada have participated in seven consecutive editions of the FIFA Women's World Cup™ (1995 to 2019) and four consecutive editions of the Women's Olympic Football Tournament (2008 to 2021). At Tokyo 2020, Canada Soccer's Women's National Team became the first Canadian team to win three consecutive medals at the Summer Olympic Games and just the third nation in the world to win three medals in women's soccer.
CANADA
GK- Sabrina D'Angelo | SWE / Vittsjö GIK
GK- Lysianne Proulx | Unattached
GK- Kailen Sheridan | USA / San Diego Wave FC
CB- Kadeisha Buchanan | ENG / Chelsea FC
CB- Vanessa Gilles | USA / Angel City FC
CB- Shelina Zadorsky | ENG / Tottenham Hotspur
FB- Allysha Chapman | USA / Houston Dash
FB- Ashley Lawrence | FRA / Paris Saint-Germain
FB- Jayde Riviere | USA / AFC Ann Arbour
FB- Bianca St-Georges | USA / Chicago Red Stars
M- Zoe Burns | USA / University of Southern California
M- Jessie Fleming | ENG / Chelsea FC
M- Julia Grosso | ITA / Juventus FC
M- Quinn | USA / OL Reign
M- Sophie Schmidt | USA / Houston Dash
M- Desiree Scott | USA / Kansas City Current
F- Janine Beckie | USA / Portland Thorns FC
F- Jordyn Huitema | USA / OL Reign
F- Cloé Lacasse | POR / SL Benfica
F- Adriana Leon | ENG / West Ham United FC
F- Nichelle Prince | USA / Houston Dash
F- Deanne Rose | ENG / Reading FC
F- Christine Sinclair | USA / Portland Thorns FC
CANADA A-Z
Player name | pronoun | Age | Where they grew up | Active start/first club
Beckie, Janine | she/her | 27 | Highlands Ranch, CO, USA | Real Colorado
Buchanan, Kadeisha | she/her | 26 | Brampton, ON, CAN | Brams United SC
Burns, Zoe | she/her | 20 | Issaquah, WA, USA | Eastside FC in Preston
Chapman, Allysha | she/her | 33 | Courtice, ON, CAN | Darlington SC
D'Angelo, Sabrina | she/her | 29 | Welland, ON, CAN | Welland SC Wizards
Fleming, Jessie | she/her | 24 | London, ON, CAN | Nor'West Optimist SC
Gilles, Vanessa | she/her | 26 | Ottawa, ON, CAN | Ottawa Capital United SC
Grosso, Julia | she/her | 21 | Vancouver, BC, CAN | Vancouver's Italian Canadian SF
Huitema, Jordyn | she/her | 21 | Chilliwack, BC, CAN | Chilliwack FC
Lacasse, Cloé | she/her | 29 | Sudbury, ON, CAN | Sudbury
Lawrence, Ashley | she/her | 27 | Caledon East, ON, CAN | Brams United SC
Leon, Adriana | she/her | 29 | Maple and King City, ON, CAN | Vaughan Azzuri
Prince, Nichelle | she/her | 27 | Ajax, ON, CAN | Ajax SC
Proulx, Lysianne | she/her | 23 | Boucherville, QC, CAN | CS Boucherville
, Quinn | they/their | 26 | Toronto, ON, CAN | North Toronto SC
Riviere, Jayde | she/her | 21 | Markham, ON, CAN | West Rouge SC
Rose, Deanne | she/her | 23 | Alliston, ON, CAN | Alliston SC
Schmidt, Sophie | she/her | 34 | Abbotsford, BC, CAN | Abbotsford
Scott, Desiree | she/her | 34 | Winnipeg, MB, CAN | Maples Cougars
Sheridan, Kailen | she/her | 27 | Whitby, ON, CAN | Pickering SC
Sinclair, Christine | she/her | 39 | Burnaby, BC, CAN | South Burnaby Metro Club Bees
St-Georges, Bianca | she/her | 24 | St-Charles-Borommée, QC, CAN | St-Félix De Valois
Zadorsky, Shelina | she/her | 29 | Kitchener & London, ON, CAN | Kitchener SC