Welcome to the all-new, completely revamped and redesigned CanadaRED fan membership program!
When our teams play at home, we want you in the stands, losing your voice. When we launch an exclusive bespoke collection, we want our most avid fans to get early access. When we play on the world's biggest stage, we want you to be part of the travel team. The redesigned CanadaRED fan membership program is a win-win for us all on and off the pitch.
The original CanadaRED is still the best place to get the inside track on everything related to Canada Soccer and our National Teams, only now we've made it better than ever by introducing new membership offerings!
Every dollar collected is reinvested into Canada Soccer programs that benefit our National Teams as well as Development initiatives across the country.
We are building a movement, and that begins with each of you. The CanadaRED fan membership program helps us deepen our relationships with our fans across the country and around the world, and supports the delivery of programs and initiatives that help promote and develop soccer in Canada. Find the level that's best for you and register today.
CanadaRED
Completely free of charge and made for those who want to stay connected, receive the monthly newsletter, get presale access to National Team home match tickets, and obtain regular updates on Canada Soccer programming and product launches. Sign-up to CanadaRED today.
CanadaRED+WHITE
With an annual cost of $50, this is our Select offering designed for fans who want to follow the team more closely than ever before and want to give themselves the best chance to be in the stands when it counts! In addition to the base CanadaRED package, you also benefit from advance presale access to National Team home match tickets, access to FIFA World Cup ticket allotment, merchandise discount at CanadaSoccerStore.com, invitations to CanadaRED+WHITE member-only events, access to exclusive Canada Soccer content, as well as access to exclusive and special edition merchandise. Register here and become an official member of Canada's growing soccer movement!
CanadaRED+GOLD
With an annual cost of $150, the CanadaRED+GOLD tier is the second phase of Canada Soccer's expanded CanadaRED fan engagement program, and includes everything in the CanadaRED+WHITE package, along with a series of enhanced benefits, including: Premium Access to FIFA World Cup ticket allotment (highest priority in weighted random draw), Exclusive Canada Soccer Gift Package ($50 Value), Access to CanadaRED+GOLD VIP Experiences, Premium Presale Access to National Team Home Match Tickets, and more. Register here to become a CanadaRED+GOLD member!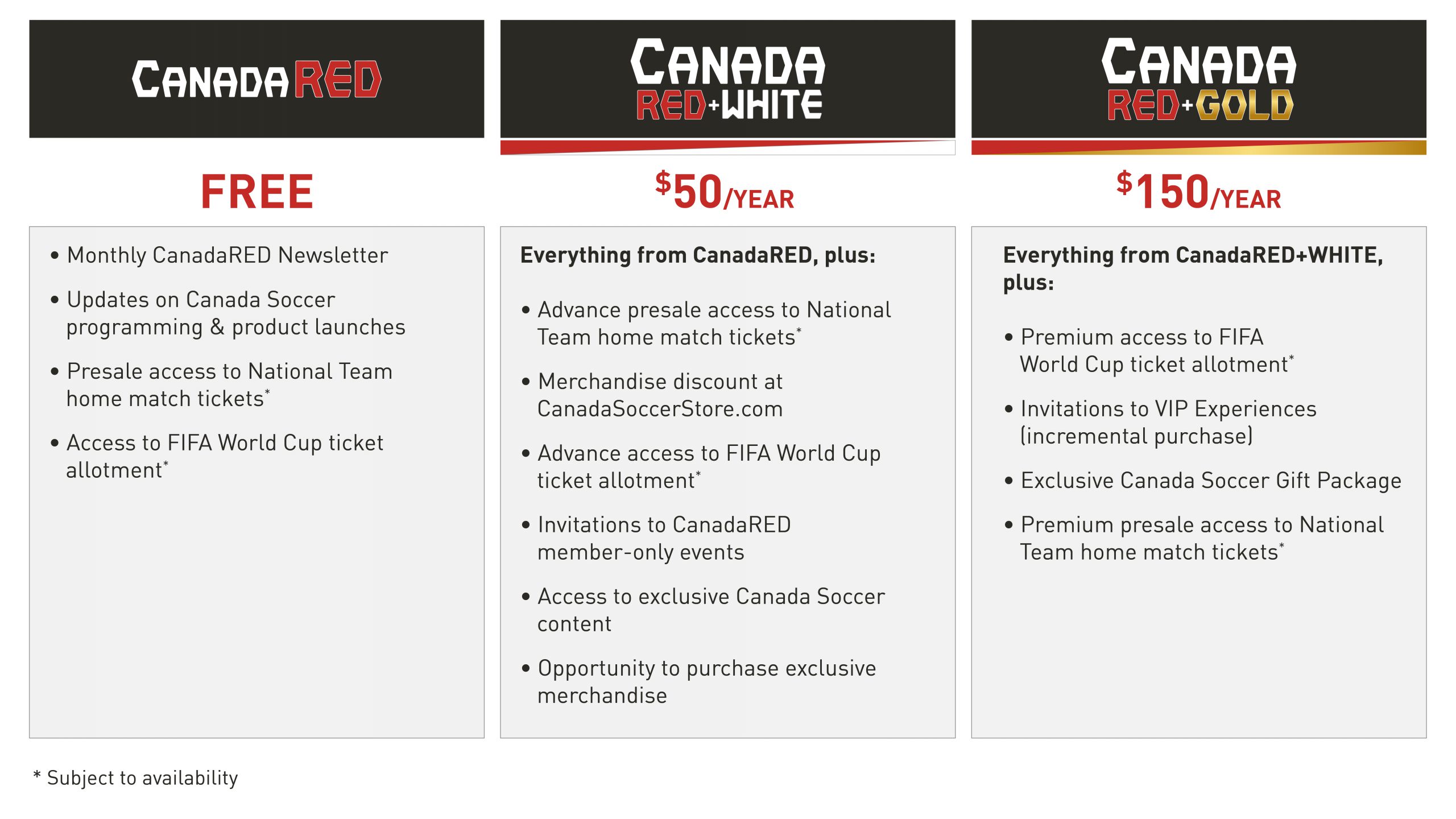 Frequently asked questions about the enhanced CanadaRED fan membership program.
Coming Soon…
CanadRED+BLACK
Our Exclusive offering.