STANDARD TICKET OPTION
Individual Ticket Prices
Individual tickets will go on sale Friday 20 May, at 15:00 ET, via Ticketmaster.ca.
Premium Seating Options
BMO Field's West Club Seats in section 123 offer fans an enhanced match day experience featuring access to the state-of-the-art climate-controlled West Club lounge, where complimentary food and non-alcoholic beverage hospitality will be offered, and some of the best views of the action from larger, comfortable seats.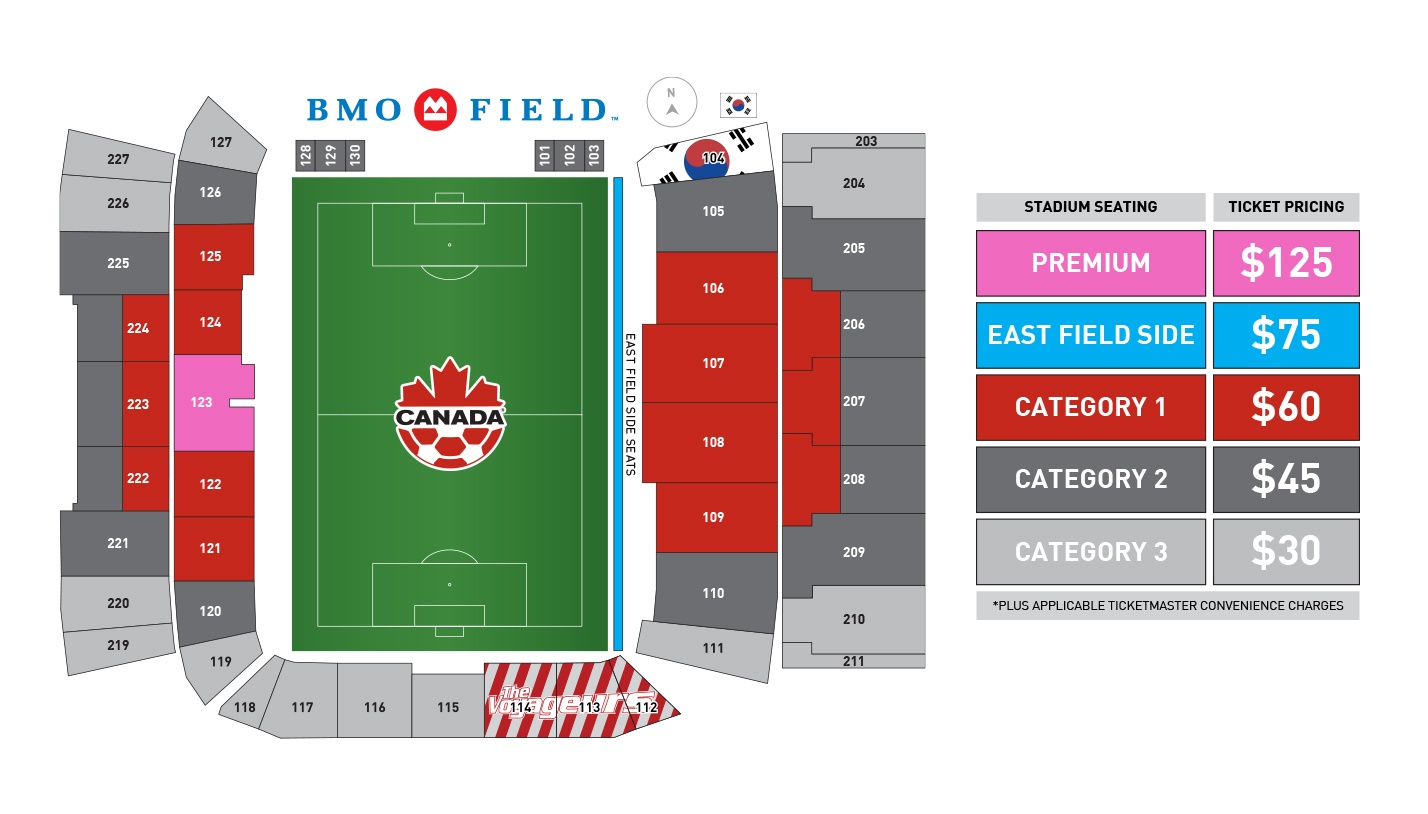 GROUP TICKETS
Group Tickets
Group discounts (10+ tickets) are available for this match, by organizing a group of 10+ or more, you are eligible to receive a discount of up to 30% off regular priced tickets. The group ticket order window is now open.
To submit your request, complete the group order form indicating the price point and quantity of tickets you are wishing to purchase. Following the submission of the online form you will be contacted directly to confirm payment details and complete the processing of tickets. Ticket orders will be processed on a first come, first serve basis so organize your group, club, or team today
SPECIAL OFFERS
ME+3
A special "Me+3" tickets offer is available for this match. By purchasing three tickets in Price Category 2, fans will receive the fourth one free. The "Me+3" ticket packages can be purchased directly via TicketMaster.ca. Please note "Me+3" is only available at the start of
public on sale, 20 May 15:00 ET.
VOYAGEURS CANADIAN SUPPORTERS SECTIONS
The Voyageurs Canadian Supporters Group has been allocated all sections in the South stands at BMO Field. Please note that persistent standing will be permitted in these sections.
For more information on securing tickets with the Voyageurs Canadian Supporters please visit www.thevoyageurs.org.
Visiting Supporters Section
Visiting supporters have been allocated seats in section 104 . To purchase a seat in the Korean supporters sections please select tickets from section 104.
Plan your visit to BMO Field. Click here for all of BMO Field venue policies